COMFORT COMES FROM THE INSIDE.
Sleigh the Holidays
Try our product finder to find your perfect match.
TAKE QUIZ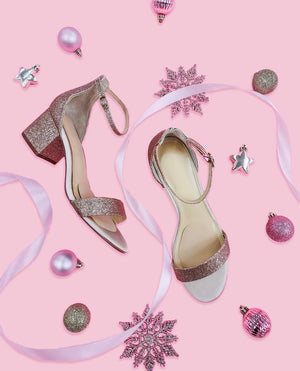 HOLIDAY PARTY READY
Celebrate the holidays in style and comfort with discreet cushions for heels, pumps and wedges.
Shop This
★★★★★

Awesome product! I had previously tried other similar items but were either too thick, not large enough, it was always something, But Foot Petals were EXACATALY what I was looking for! They are perfect! Thin and just the right size. They fit nicely and my feet are very comfortable all day long. I highly recommend Foot Petals and bought plenty to put in all my shoes. Thanks for making a terrific product!

Rita F.

Gel Ball of Foot
★★★★★

Cannot express the incredible positive difference the extra padding from the Gel Ball of Foot cushion makes. These pads provide immediate comfort with each step. Thank You!

Sally S.

Gel Ball of Foot Extra Cushion
★★★★★

I bought these many times and use them in most shoes. I can't be without them. My flat-arched feet need this support and without them my feet will ache. Though I usually leave them in the shoes I do take them out to clean them periodically. They stay put unlike other similar ones I've tried.

Lurlene C.

Gel Arch Support Cushions
★★★★★

I use various foot petals for different shoes which help keep my feet from sliding. Highly recommend them.

Jackie B.
★★★★★

These are wonderful cushions. My only wish is that they would be sold in a 3 pair pack as they used to be.

Gail C.

3/4 Insoles with Extra Cushion
Product Finder
Need some help? From minor fit issues to total shoe makeovers, find the perfect solution with our quick & easy quiz from the comfort of your home!

Take the Quiz
Tips for the Perfect Fit
Narrow feet, scrunched toes, shoes rubbing, or toe overhang? Can't find the right fit? Here's all the tips & tricks you need for the perfect fit!
Find the Perfect Fit
Experience the FREEDOM to wear any SHOES you want. From your fave pair of statement heels to your everyday sneakers, shoes are a form of self-expression. However, super cute doesn't always mean super comfy. With Foot Petals, any shoe is possible - even those 5-inch stilettos hiding in the back of your closet.

We understand the LOVE that women have for shoes and the power the right pair has. Our cushions, insoles, grips, and more offer discreet comfort all day long whether you're running errands, walking to class, or spending a night out with the girls. Fall in love with your shoes all over again and walk in confidence when you step into comfort with Foot Petals.
Shop All